Curry sprouts, curry chicken salad
Despite the proliferation of pumpkin pie spices this time of year—that delightful blend of cinnamon, allspice, nutmeg, mace, ginger, and cloves—in my household it is also curry season, because curry is likewise warming and wonderful and fills the house with cozy aromas so it is like looking into a glowing window snug against a cold day.
And so, this newsletter contains two curry recipes. The first is similar to the chickpea recipe I shared earlier, but with brussels sprouts and a curry flavor profile, while the other is a curry chicken salad.
I use "curry" here as shorthand for a blend of dried spices used to flavor food—not the food or sauce also known as curry. Like the word itself, the dried spice mixture of "curry" is a catch-all name given to dozens and dozens of different blends and recipes. Penzeys and The Spice House have different kinds of curry powder: there's sweet (which means it's not hot at all), medium, and hot, and then there's different powders for some of the more standard varieties: rogan josh, vindaloo, and garam masala among them.
For these recipes I use a sweet curry. I like sweet curry because I can always add a little heat with the addition of cayenne pepper if I want to. The real reason I prefer to use sweet curry and add cayenne instead of just using hot curry powder is because I add a lot—a lot—of spice when I'm cooking my food, and if I dump hot curry powder on my brussels sprouts there's a good chance I'll overdo it on the heat. Cayenne pepper and other hot peppers like jalapeño will get hotter the longer they're cooked, too. Better to add as much curry flavor as I want and manually add the heat.
I also like sweet curry powder because the Penzeys and Spice House versions are really good. It's a bunch of different spices combined at the perfect levels. Some folks make their own curry powders, measuring out individual spices and mixing them. That's a lot of work that I don't want to do. (Though occasionally I'll toast whole cumin and coriander seed, crush them in the mortal and pestle, and add them to the food, which adds a nice roastiness.)
Curry brussels sprouts and chickpeas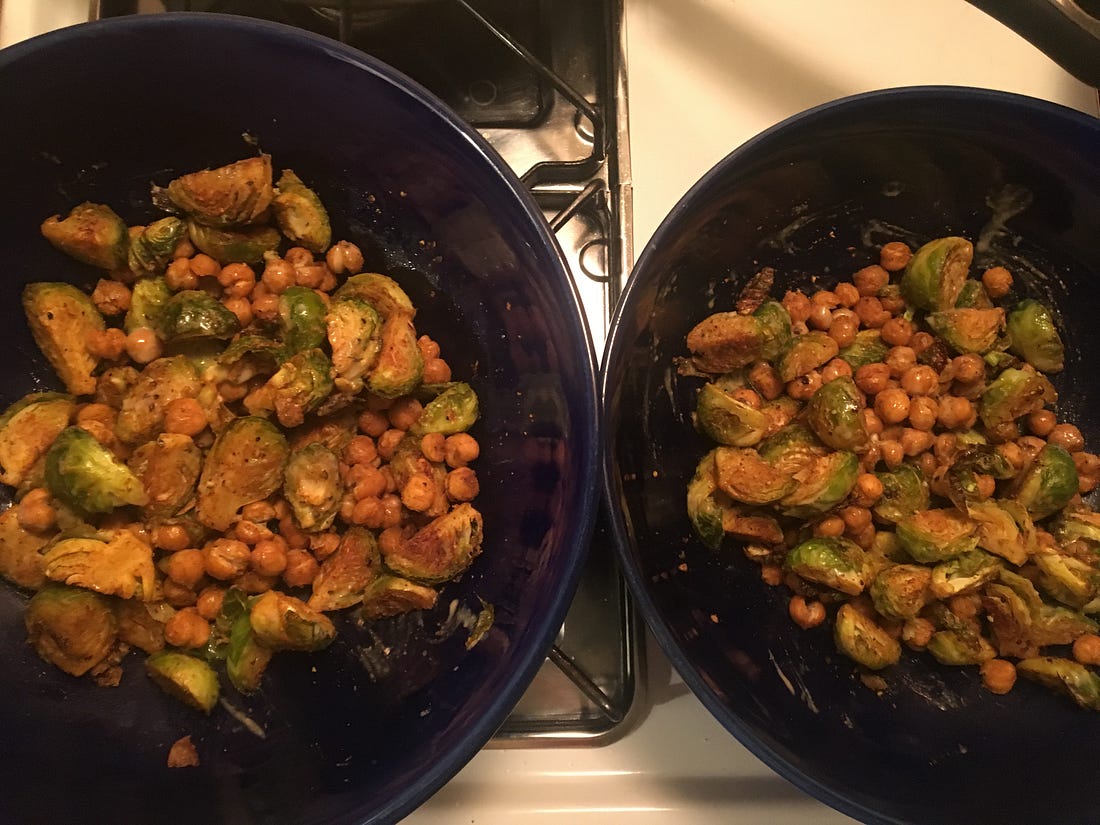 This is one of my simple, go-to dinners I make once a week. The chickpeas and brussels sprouts go in the oven on different sheet pans, but take the same amount of time to cook. While they're in the oven, make the vinaigrette. This brings moisture to the dry food, plus a tang of tartness. This recipe is the best way I've found to make brussels sprouts not just good, but craved.
The details
Yield: A meal for two
Time: 30 minutes
Labor rating: 3 (some chopping, almost no real prep work, minimal dishes to wash)
Ingredients
Chickpeas and brussels sprouts
1 can chickpeas
20 or so brussels sprouts
1 tablespoon and 2 teaspoons olive oil for sprouts; 2 teaspoons olive oil for chickpeas
2 teaspoons sweet curry powder for sprouts; 1 teaspoon sweet curry powder for chickpeas
salt and pepper to taste
Vinaigrette
Juice from one half lemon (about 1 tablespoon)
1 tablespoon olive oil
1/2 tablespoon tahini
1/4 teaspoon mustard
1 pinch salt and pepper
Directions
Preheat oven to 400 degrees.
Half the brussels sprouts, or quarter if they're large. In a medium bowl, combine sprouts with 1 tablespoon and two teaspoons olive oil, 2 teaspoons curry powder, and a pinch of salt and pepper. Stir well and put sprouts on a baking sheet, separating them so they're not touching.
Rinse chickpeas in a strainer over the sink. Remove as much water as you can. (I move the strainer up and down, which dislodges a lot of water, then let it sit on the edge of the sink for a moment, which allows more draining.) Save the strainer for a future step. Place a paper towel on a plate. Deposit chickpeas on paper towel and dry completely.
Put dried chickpeas in the same bowl you used for the sprouts. Add 2 teaspoons olive oil, 1 teaspoon curry, and a pinch of salt and pepper and mix well. Dump onto a baking sheet and shake so chickpeas aren't touching each other. (Some chickpea skins will be stuck in the bowl; I add them to the baking sheet because they come out crispy and add a nice texture.)
Put both sheet pans in the oven for 20 minutes total. After 10 minutes, shake chickpeas; use a spatula to move the sprouts around.
Make your vinaigrette. In the same bowl you've been using, add the juice of half a lemon, mustard, tahini, and a pinch of salt and pepper. (Squeeze the lemon over the strainer to catch the seeds.) Mix well with fork or whisk. Add olive oil in a slow drizzle, whisking as you go to emulsify.
Test the brussels sprouts with a fork after 20 minutes; they should be tender but still a little firm. Chickpeas should be golden and crisp. Add sprouts first to the bowl of vinaigrette, mix, then add chickpeas. Separate into two different bowls and serve.
Curry chicken salad
This curry chicken salad is an excellent meal to prepare ahead of time for lunches, or just to make on the weekend for a weeknight dinner you don't have to prepare.
I like a lot of stuff in my chicken salad, but of course you can omit any of the additions in the recipe.
The details
Yield: About 6 cups chicken salad
Time: About one hour for prep and cooking
Labor rating: 6/10 (some prep work, including lots of chopping)
Ingredients
2 boneless, skinless chicken breasts
2 tablespoons olive oil
¼ high-quality mayo or plain Greek yogurt
½ cup Patak sweet mango chutney (available at all the regular grocery stores in my area, at least, and hopefully in your's too)
1 tablespoon sweet curry powder
1 teaspoon salt, plus more to taste
½ teaspoon pepper, plus more to taste
⅓ cup sliced almonds
2 cups purple grapes
¼ cup dried currants
1 bunch green onion
Directions
Preheat oven to 350 degrees.
Place chicken breasts on a sheet pan, and coat with olive oil. Cook for 20 minutes or until done. (I check by cutting into the thickest part of the chicken breast; slice all the way through, as you'll be chopping up the chicken anyway. Should be a light pinkish-white but not red.)
Cool chicken breast for 30 minutes (so it's easier to chop).
While chicken breasts bake and cool, prep other ingredients.
Put a small pan over low heat. Add almonds and toast, turning every minute or so, until almonds are lightly browned, about five minutes.
Slice grapes in halves, or quarter if grapes are large. (Using a sharp knife makes this easy; a dull knife makes it hard.)
Chop off ends of green onions. Slice into thin rounds from whites up to dark greens.
When chicken breasts are cool, dice into small pieces.
In a roomy bowl, combine chicken, mayo or yogurt, chutney, curry powder, salt, and pepper. Stir. Add more salt and pepper to taste. (I add salt "at the table," as I'm eating, so I don't worry too much about it being perfectly salted at this stage.)
Add toasted almonds, sliced grapes, dried currants, and sliced green onions. Stir to combine.
Eat fresh or refrigerate.
A note on altering this recipe: The amounts of curry powder and chutney should be adjusted to your personal taste. Sometimes I add a little hot curry powder or cayenne to give the chicken salad a little heat; sometimes I add more ginger to get more of that warm flavor component in the curry. I like grapes and will increase the grape amount to double or more what this recipe calls for. It's half grape, half chicken salad. Sometimes I add diced celery.
I eat this chicken salad:
plain

on toasted bread with Romaine lettuce

in a bowl with chopped Romaine lettuce, which really just adds a nice crunchy lettuce component to the chicken salad

on a toasted English muffin
Cheers,
Caity